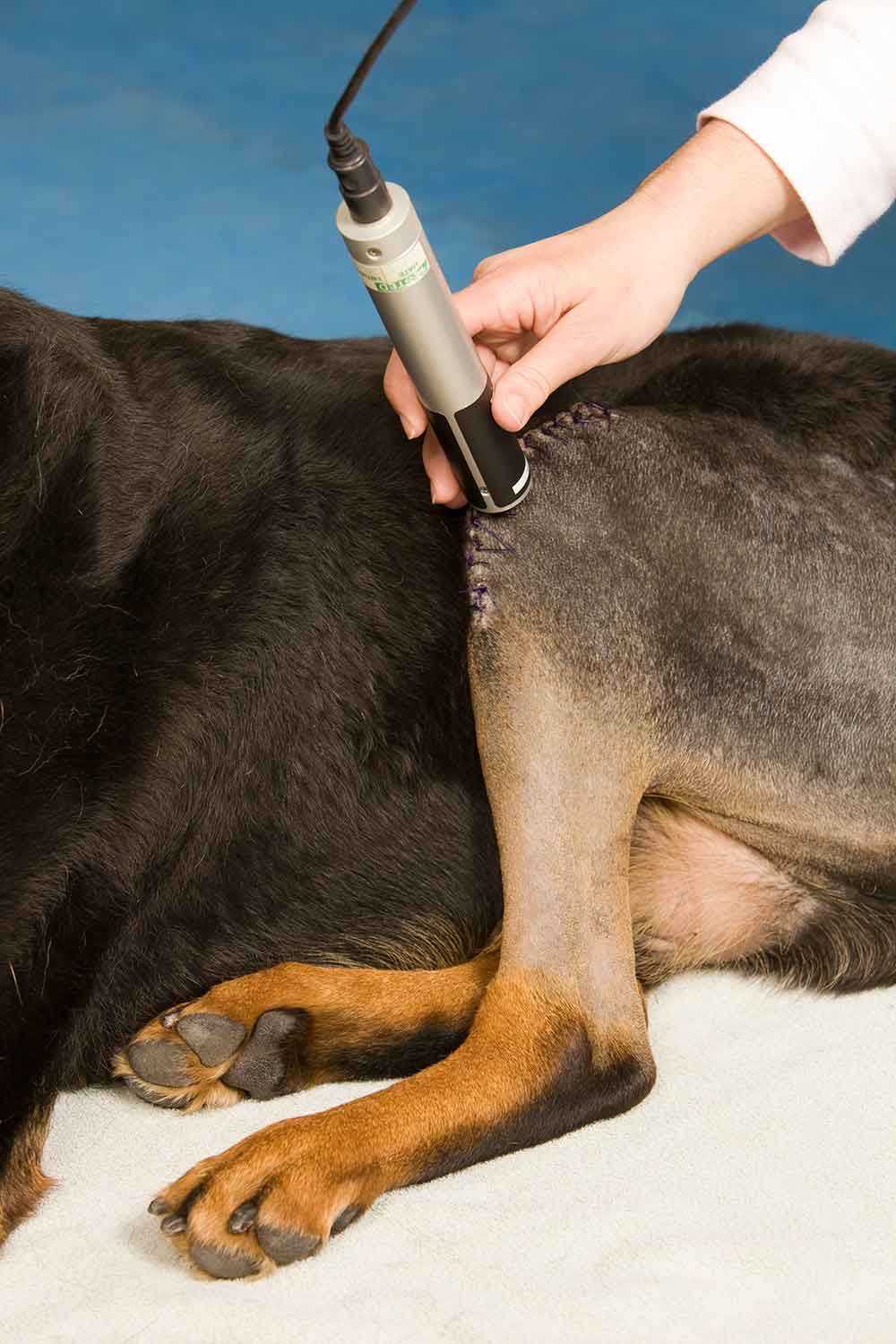 Veterinary medicine has come a long way in the last few decades. An area that has experienced a great deal of growth is the field of laser therapy. At Volunteer Veterinary Hospital, we believe that when it's used in conjunction with traditional veterinary treatments, laser therapy is an effective tool for managing your pet's acute or chronic pain, improving post surgical recovery, and as an aid in the healing of soft tissue injuries.
What Is Pet Laser Therapy?
Also known as photobiomodulation, laser therapy is the harnessing of specific wavelengths of light in order to create therapeutic effects. It has been shown to increase circulation within injured tissue, decrease swelling, speed up healing time, and reduce pain. The technology has been used in Europe since the 1970s, but it wasn't until 2002 when the FDA cleared it for use in the United States. Since then, it has become a popular treatment in both human and veterinary medicine.
What to Expect
Laser therapy for pets is a painless treatment, so therefore no sedation or restraint is required. Each session takes just minutes, based on the condition and the size of the area being treated. With each treatment, circulation increases, drawing water, oxygen, and nutrients to the damaged area. Ultimately, an optimal environment is created and the affected area begins returning to its condition prior to injury.
Laser therapy has been shown to help with:
Osteoarthritis
Joint pain
Post-surgical pain and recovery
Neck and back pain
Tendinopathies
Hip dysplasia
Edema and congestion
Burns
Ligament sprains
Chronic wounds
Muscle strains
Rehabilitation
Puncture wounds
Post-traumatic injury
Human patients have reported little to no sensation during laser therapy. If anything, they claim to feel tingling or soothing warmth within the treated area. These areas can be sensitive for a few days subsequent to therapy, but what typically follows is a healing response.
While improvement is often seen after the first laser therapy treatment, most patients will require multiple visits in order to receive its optimal benefits. Depending on the condition, as well as the size of the area treated, your veterinarian will recommend a treatment plan best suited for your pet's needs.
For more information about our therapy laser, or to make an appointment for your pet, we invite you to contact us today. A friendly member of our staff will be glad to answer any of your questions.