Thomas J. Bihl, Jr., DVM
Tom is originally from Alexandria, KY. He graduated from Georgetown College with degrees in Biology and Environmental Science. He attended the University of Kentucky where he took his pre-veterinary agriculture courses. Tom graduated cum laude in 1991 from Auburn University College of Veterinary Medicine.
Tom and his wife Susan live in Maryville. They have two children, Andy and Emily. When not at work, Tom enjoys woodworking, hiking, camping, fishing and shooting.
Alisha L. Harbin, DVM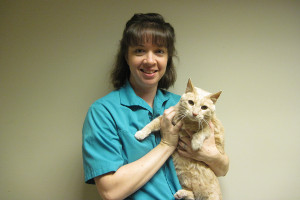 Alisha L. Harbin was born and raised in Tullahoma, TN. She graduated from Middle Tennessee State University with a Bachelor Degree in Biology and Chemistry with a minor in Psychology. She graduated from the University of Tennesse College of Veterinary Medicine in 2005. She has worked in general practice clinics and a spay/neuter clinic since graduation. Alisha's primary interest involves canine reproduction and pediatric care but she enjoys all aspects of small animal medicine and surgery, including exotics.
Alisha and her husband, Josh, live in Louisville with their four-legged kids. Alisha has been showing and breeding Collies since she was 7 years of age and has handled multiple other breeds in AKC conformation shows, including Dr. Russell's Boxers. Along with AKC conformation shows, she enjoys quilting and target shooting with her husband in her spare time.
Bethany C. Russell, DVM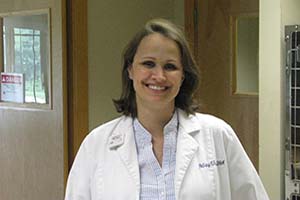 Bethany C. Russell grew up in Johnson City, TN. She attended Presbyterian College in Clinton, SC where she played varsity soccer. She graduated in 2001 summa cum laude with a Biology major and a Chemistry minor. She graduated in 2005 from the University of Tennessee College of Veterinary Medicine and came to work at Volunteer Veterinary Hospital shortly thereafter.
She is married with two daughters, Madeline and Taylor, and a step-daughter, Alexis. She and her husband, Scottie, live in Alcoa, TN and enjoy showing boxers in AKC conformation shows in their free time. Bethany enjoys small animal practice with special interests in surgery and canine reproduction.
Cher Gotcher

Groomer
Cher was born and raised in Miami, Florida. After graduating from the Florida School of Dog Grooming in January 2000, she opened Picture Perfect Dog Grooming in Lutz, Florida. Cher sold her successful business in 2005 and moved to Knoxville to live near her daughter. She has groomed pets at Volunteer Veterinary Hospital since 2005.
An ex-surfer and equestrian, Cher now enjoys gardening and collecting rocks and fossils.
Stacy Evans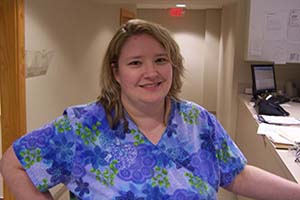 Stacy has been with Volunteer Veterinary Hospital since 1996. She grew up in Maryville, TN. She attended Pellissippi State and the University of Tennessee.
She enjoys watching movies, crafts, reading and playing softball. She also enjoys attending the University of Tennessee Athletics events, including softball, basketball, baseball and football.
DeAnna Bennett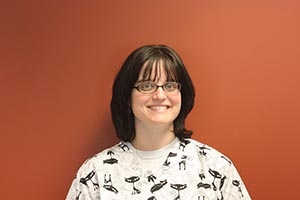 DeAnna is originally from Smyrna, TN but spent many years living near Spartanburg, SC before moving to Knoxville to attend the University of Tennessee. DeAnna began working at Volunteer Veterinary Hospital in 2005. After graduating with her BSAS in 2007, she began working full time and moved from a position in the kennel to assistant and front desk staff.
In her spare time, she enjoys reading, watching movies, and spending time with her 4 black and white "fur babies", a shih tzu (Leo), a cocker spaniel (Isabella) and 2 cats (Charlie and Gus).
Maureen Benoit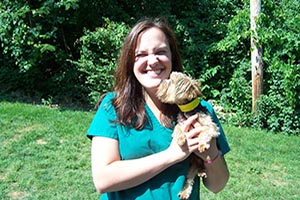 Born and raised in Western Massachusetts, Maureen moved to Pennsylvania to attend Delaware Valley College, where she did her undergraduate work in large animal science.
After graduating and spending her final summer working with pot bellied pigs, she moved to Tennessee with her dog, Heidi in hopes of getting far from northern winters and to be closer to her family.
Samantha Inman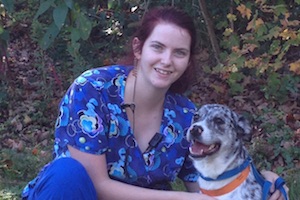 Originally from Kentucky then moving to Wisconsin, Samantha finally settled down in Maryville, TN in 2004. Having attended the University of Tennessee for 2 years, Samantha decided to take time off to discover a new major.
In her free time, Samantha loves to read, listen to music, watch movies, spends time with her friends and family, but most of all play with her Chihuahua, Arabella Monroe, and her yorkipoo, Maximillian Theodore.
Kayla DeMori
Kayla is a Knoxville native and has been working in the veterinary field for the past five years as a receptionist. She is currently studying at the University of Tennessee – Knoxville and enjoys spending time getting to know all of the fur babies and their people.
When she is not at Volunteer she enjoys spending time with her husband, Nik, and two little ones, Mark and Isabella. She has one fur baby of her own who was a bottle-fed rescue kitty turned ninja, also known as, Kai. She enjoys traveling and discovering new places around the world. Her favorite place is a little beach in Oahu where she spent her honeymoon.
Melissa Muse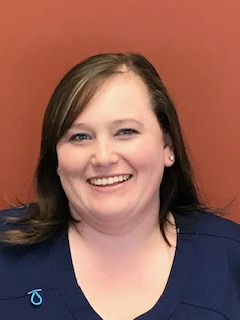 Melissa was born in Oklahoma and then was raised in Campbell County, Tennessee. She married her husband in 1999. She has enjoyed working in the veterinary field for 16 years. In her free time, she enjoys visiting family in Tahlequah, Oklahoma, spoiling her 16 year old poodle, Stitch, and driving her husband crazy with craft projects or watching Scooby Doo.
Syndey Durbin