It's Always Time to Play With Your Dog!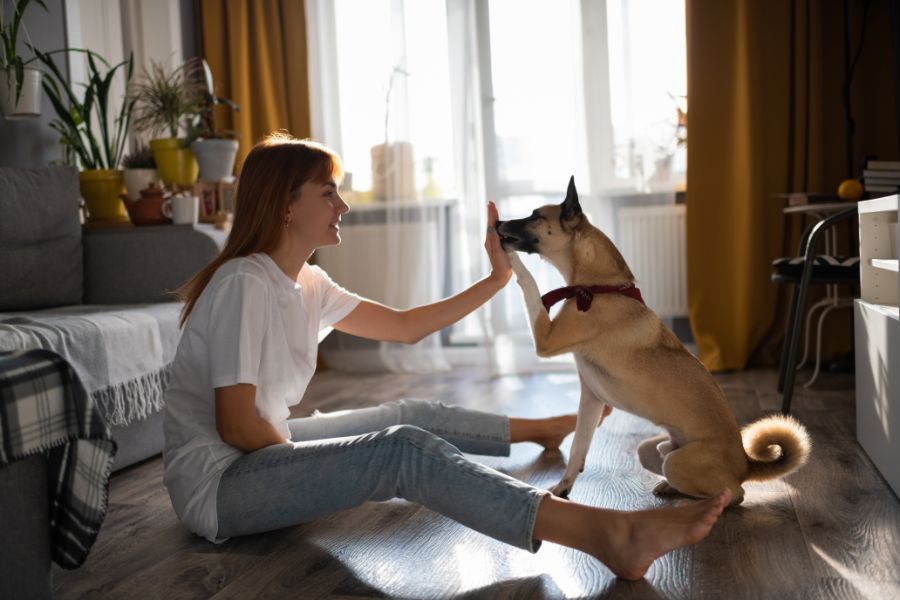 There has never been a better time to play with your dog. You are both home, and frankly, could use a little fun and exercise. Chances are, a little backyard time may be just the diversion to help with your physical and mental health. Let us help with our top 10 games to play together. Enjoy!
The Benefits of Exercise for Dogs
Whether you have a working breed or a content lap dog, they should ideally get between 30-60 minutes of exercise every single day. While it helps if exercise times are part of a strictly followed routine, if you spontaneously decide to embark on a new activity together, you can rest assured knowing you're doing the right thing for your dog's health.
Mental Acuity
When dogs are given "jobs" they have opportunities to burn off pent up steam and stress. Without a positive outlet for their energy, dog owners may observe pacing, destructive chewing or digging, and other behavioral concerns.
The production of serotonin in your dog's brain, triggered by exercise, will help to make them feel satisfied and happy.
Safety Considerations
While exercise is crucial for your dog, it's important to choose the right activity for their breed and age. Younger dogs are still growing and developing and can be at risk of injury if running and jumping too much. Similarly, older pups may suffer from joint pain and arthritis. With this in mind, play with your dog in the right way to ensure a positive result.
Play With You Dog!
The following ideas are in no particular order, and we hope that they trigger play with your dog today and every day afterwards.
Retrieval games, like fetch with a ball or Frisbee, can be excellent ways to pass the time. Train your dog to dop it when they bring it back to you.
Hide and seek with treats or toys can be really great to motivate them. Give them clues about locations and reward them with lots of praise.
Tug may not be every dog owner's idea of fun, but most dogs absolutely love it. You never want your dog to inadvertently bite you, so stop the game if that ever happens.
Flirt poles are great fun for your dog's hunting mentality, and you can easily fashion one with household items. Use this to your benefit by training your dog to control their impulses and releasing on your command.
Build a sandbox just for your dog to dig in. Trust us, they'll love it! Just be sure to brush the sand out of their coat before coming inside.
Install a wading pool just for them to cool off in. This is a fun place to throw toys into when playing fetch!
Agility courses, even basic, rudimentary ones, offer great exercise and bonding opportunities for both of you. Your course can provide hours of fun and training.
Stuff your dog's favorite treat dispensing toy and watch the fun unfold. They really are so clever at getting what they want!
Remote control cars can be incredibly fun and entertaining. Place their favorite treat on the car and move it around. While it's not okay to tease your dog, engage them with the idea of focusing their energy on getting their treat from something moving around.
Bubbles may not seem like something your dog would get into, but they are generally well received by the canine set. Watch them chase them and pop them for lots of fun.
If you have further questions about how or what to play with your dog, we're always "all ears" at Volunteer Veterinary Hospital. Have fun!